People often say "I want to be more positive," but they're not sure how to actually make it happen, right? Well, I know how to make it happen.
The project: I'll explain one subtle step to cut out some of the negative stuff you're saying about your life and shift them toward the positive. You are what you eat and you are what you say. So make sure your words are giving you the best chance to for a happy life.
The plan: Watch this tip on how to eliminate one very important word from your vocabulary and replace it with language that can help you change your life for the better instead! (I've also posted this video in the "Video Tip" tab up over there for safe keeping.)
What you can do from here: Start small. Try this trick for one day, and I promise you'll be amazed at how much possibility life seems to offer in front of you.. Once you start catching yourself using the Taboo buzzer word and replacing it with more positive ones, you'll remember that anything really is possible. Then, watch the life and love you want happen!
You might also like: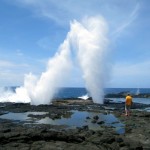 Let down your dating caution tape
Big love,