My friend Brandon had a skiing accident some time ago that knocked his neck around and left him in a clunky metal "halo" that was screwed into his skull, its huge metal arms resting on his shoulders to keep his head from moving a millimeter. And it made him stand out in a crowd in a very Joan-Cusack-in-Sixteen Candles kind of way…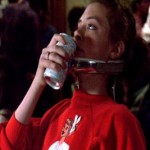 Not that Brandon expected the attention, mind you. The first morning he went outside in public, he pulled on a pair of shorts and said, "Oh man, I'm so pale, do you think I'm going to look stupid?" We had to remind him, "Um, Brandon? They're not gonna be looking at your legs…."
For many people, getting screwed into a halo would keep them home. Did it stop Brandon? Hells no! The first time I saw him, he was wobbling into a Hooters of all places, for wings and beer. He went on hikes, hit the beach, rode the ferris wheel and drank  champagne cocktails at my husband's art party at a loft downtown all while wrapped up in goofy sweatshirts cut open to fit over his contraption. And you know what I saw? Girls flocking to him like moths to flame, mice to cheese, Mad Men characters to cigarettes.
Brandon didn't feel a bit sorry for himself, and it made the people around him feel the same way. What women saw when they spoke to him was a guy with a zest for life, a great sense of humor, and a spirit that would not be squashed, not even under the weight of a 20-pound chunk of metal. Instead of groaning about his halo, he had girls put flowers in it! Instead of focusing on the outside, he looked at the upside.
Brandon's healed and free of his halo now, but his story sticks with me. I know, for instance, I used to pity myself at times when I was single—over my dried up dating life or the crappy day I had or the people who didn't call me back. (Clearly, I should have read 11 Ways Being Single Beats Being in a Relationship!) But then I'd look at people who keep a positive attitude through far worse experiences, and I was reminded that no matter what life doles out, it's our job to find the upside within us. Our life is what we make of it from the inside. Your wonderful attitude is what's going to bring you the happiness you seek and the love you're looking for. So find the upside. There's nothing more attractive than an unstoppable optimist!
You might also like:
WWJS: What Would Joan Say?
Big love,