Gosh, how I love Dexter. And if you haven't watched it yet, it's worth a Netflix Season One rental because you will—against your better judgment—find yourself rooting for this serial killer with a big heart. Especially because, in between stalking his next prey, he even provides us with insightful love advice.
Last night, two characters talked about taking the "leap of faith." First, Dexter's new nanny, who agreed to give Dexter's household another chance after quitting, if only to take a leap of faith that it would work out better this time. Dexter, in turn, told the girl who witnessed his last kill—Lumen Pierce, played by Julia Stiles—that the he would let her go, in the hopes that she wouldn't tell others what she'd seen. "It's a leap of faith," he said.
And that is what it takes when you're looking for love, too. Sometimes in life, there's just so much you can do to make things happen. In love, you can plan dates, initiate contact, beg for set-ups, hit events, introduce yourself and be proactive in meeting potential love interests. In life, you can make that call, submit that application, try alternative therapies, reach out to your network, beg for help and be proactive in getting what you need done. But then there's a point in both love and life when when you need to take a deep breath, throw out your arms and give the dating or the project up to the universe. You need to let go and take the leap of faith that the universe will carry you a little further in the right direction. And this is what we should all do today.
Give yourself a break for a minute. If you want love or something in life badly enough, I'm sure you've been working your butt off in different ways to get it. So today, I want you to throw it out to the universe, which is larger than yourself and all of us. Take the leap of faith that if you are focusing on what you want with all of your heart and glowing with your authentic happiness, then what is meant to happen for you will happen. Your path will become clear. Ideas will spring to mind. People will pop up in your life. Opportunities will come.
I'm going to do it, too, in my own way. Let's take the leap of faith together today. At least for just this one day, let's give it up to the universe and have faith that it will take care of us. It's not easy, but, hey, that's why they call it a leap.
You might also like: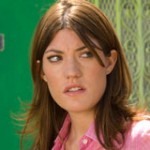 Love Lesson from a Serial Killer
Big love,