I was watching 30 Minute Meals today, and realized how much of what Rachael does for work actually gives us all great advice in dating.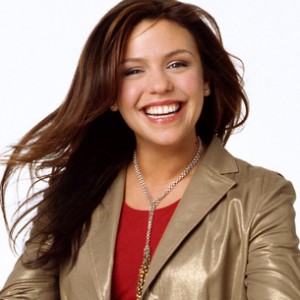 And before you say I'm nuts, let me say that I've watched her cook, travel, take bites of food in Hawaii, interview guests on her talk show, and team up with Batali on Iron Chef—and Rachael's mojo always points back to a few major points that could seriously inspire your dating life.
Here are ten things we could all learn from the 30-minute master in life and love:
1. It's okay to be a grown-up saying things like "Yum-O!" Well, sometimes, anyway. Because when you're in love, isn't that exactly how you feel? Like a big kid? I'm all for raw happiness, real feelings, and unedited energy about good food and love.
2. You should think about what you want Everyday. Rachael's magazine and show focus on eating well every day. And that's how often you should be thinking about your own happiness in life and love, too. If you want a big love tomorrow, then you should be thinking about what you want to feel Every. single. today.
3. Cherish your mistakes. When I watched a recent episode of Rachael's daytime show, laughing at how hard it was to get her frosting onto some cookies, I realized that Rachael shrugs off spills and drips on her public cooking show easier than most of us do in the privacy of our own homes. Well, she's onto something. If you bump into a bad date, have a terrible day, or your blind date ends up being a total drip…shrug and laugh it off. Mistakes are the real spice of life—the part that makes an average dish memorably special. As I say in Meeting Your Half-Orange, the worse the date, the funnier the story! Rachael's gotten some good funny mileage from her "I set the Food Network set on fire my first day" story. So get out there and get some mazz-erably awful date stories you can kick back and laugh about, too.
4. Wear comfy clothes! Rachael once said she wears comfortable clothes on her show so she doesn't have to worry about buttons and seams so tight she can't reach for her ingredients. Well, the same goes for dating! In some recent advice I gave to Lemondrop.com: What to Wear on a Date, I said, "The whole point is to be liked and appreciated for who you really are, not who you want him to think you are. If you're in an outfit or makeup or hairstyle you're not comfortable wearing, it will show in your body language." Dress in comfy "you" clothes so your date can get to know who that "you" really is.
5. Add cheese. Rachael doesn't hold back from melting a little cheese on top. And you know what else is cheesy? Romance. Love. Fluttery, happy, flirty feelings that give way to deep compassion and caring. Give into the cheese, people, it's good for you!
6. Have taste for all kinds of things. Every time I come across an element of Rachael's empire, she's talking about something different. She likes Miley Cyrus. Hall and Oates. Fine Italian villas. She's spent $40 a Day in small fishing villages, and gone all out for fresh oysters in her Tasty Travels. The fact is, few of us are always 100% beach people or 100% mountain-lovers, eat only Thomas Keller or all Carl's Junior. Even the Osmonds are a little bit country and a little bit rock and roll, and social butterflies love a quiet night cuddled on the couch. So instead of trying to box what you want into one small request, start thinking about how the relationship you want will allow you to be all of who you are, all over the spectrum. A little of this and a bit of that is what makes the best dish and date sing.
7. Laugh it off. Yeah, all of it. The one thing Rachael Ray does on her shows next to talking and cooking is laughing. Your dating life could use some of the same. Don't let dating become so darn serious, like a straight-edged business transaction. The purpose of the whole thing is to find the person that keeps you feeling your happiest self, right? Start by laughing your way there.
8. Go for the hearty stuff. When Rachael is making a recipe, she doesn't use the low-fat, low-flavor, blandy-blah version of anything, really. She's all about big pieces of bread in big pans of simmering oil for filling "sammies." That's a girl after my own heart, and an inspiration for yours. Go big with your love life or go home! Do you want an averagely low-key love, or do you want a big, fulfilling relationship that will set you weak in the knees? Ask for the hearty stuff so life will know to bring it to you.
9. Just give it 30 minutes. Some people will tell you they know within 3 minutes if someone isn't right for them. But it'll take a little longer than that to know if someone is. Give people more than 3 minutes to show you who they are. In the time it takes Rachael to make a great meal, you might be able to tell if you can have a great start at love, too.
10. When you think of love, think of "oranges." Rachael's latest cookbook is her Big Orange Cookbook. Me, I'm more into half-oranges, since that's who you want to be your other half! A "half-orange," remember, is based on the Spanish term "media naranja," and means your sweetheart, your beautifully perfect other half—and yours is out there! So turn on your dating optimism—and take these lessons from one of America's favorite hosts—to bring him or her straight to you.
Big love,