Ooh, I love me other people's genius ideas.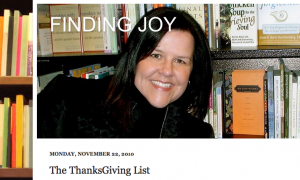 And today, the credit goes to Joy Meredith, author of the thought-provoking book, My Last Wishes: Life, Love, Laughs & a Few Final Notes.
This week, she wrote a wonderfully brilliant post called "The Thanksgiving List" on her blog Finding Joy, about a tradition she started called her Thanksgiving List. First, she makes a list of all the people in her life she's thankful for and why. Then, on Thanksgiving morning, she calls and tells them so. Here is the short version of how it works:
"On the morning of Thanksgiving," writes Joy, "I wake up early, make two Pepperidge Farm cherry turnovers, and begin my calls around 9ish.

Working off my notes I take a moment to get present with my gratitude and then I call my friend Ann (the list is alphabetical) and begin the thanking. It is designed to be a quick call, there are no pleasantries or small talk, it starts: Are you ready? Ok, Ann this is why I am thankful for you this year…."
Joy writes more about it—including how she rarely allows them to thank her back how her friends and family have responded to being on the list. So check out her full post for the story.
But I had to pass this on. Because if you want a loving relationship, you have to live a loving life. I mean, think about it: You can't live like a hermit with a cold fish attitude who's not engaging in any warmth of emotion with any family or friends around you, and expect that—Poof!—a loving partner is going to recognize you as their dream girl or guy as you grumble your way forward on the drugstore line with a pack of paper towels. You have to tune into that soft side, the heart side. The more you get in touch with your feelings of love and gratitude, and the more you engage in relationships with friends and family, the more open and ready you'll become for a romantic love in your life.
Joy's Thanksgiving List is a perfect way to do this. Plus, it can help you pinpoint the right relationship for you. How? It carves out some time in your life to reflect on what really matters to your heart, which can help you make your Big Love List. (My post OPTIMISM WORKSHOP: Your Big Love List will get you started.) But making your Thanksgiving List and your Big Love List can become intertwined: Are you thankful for a friend who always supports you, even when you do stupid stuff? Then you'll probably want to feel unconditionally supported by a partner, too. Are you thankful for a cousin who always leaves hilarious messages on your phone in a French accent when you're having a down day? Then feeling like you can laugh with a partner through tough times should be on your love list.
Go on, make your Thanksgiving List. I know I'm going to. Even if you're not as organized and amazing as Joy obviously is to squeeze in those calls on Thanksgiving morning, making the list itself is a darn good start.
You might also like: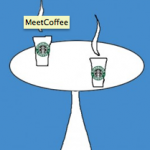 The Coffee Test
Big love,