Today, I'm inspired by a friend of mine, Nicole, who started a gorgeous blog called Truth + Fairytales. Kind of what we all need to know the difference between in dating, too, huh.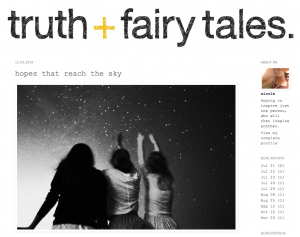 Nicole, a former coworker of mine, is one of those girls who's always wearing the cutest thing while her hair falls in just the most naturally enviable way, with a creative talent you wish you could bottle. So I wasn't surprised to love her latest post called Hopes that Reach the Sky. The post is about another cool blog she stumbled upon called The Beginning, which is full of sharp, inspiring or spot-on quotes presented in delectably artful ways.
Nicole posted her favorites on Truth + Fairytales, and I adore her choices. So my suggestion today is to check both blogs out and skim them for a few minutes to see if you find something that speaks personally to you. Sometimes when you're feeling lost or buried under or mildly hopeless in life or love, just seeing that someone else has felt something you're feeling can make all the difference.
One of my favorite quotes, for instance, is presented on the image of a little girl hiding behind a balloon. It says:  "I've finally discovered that my greatest fear is not being alone; it's being vulnerable." Amazing, right? Because when you figure out something big like that, it can change how open you feel with others every step of the day.
Find yourself an insight that resonates with you like that, and here's to your hopes reaching the sky.
You might also like: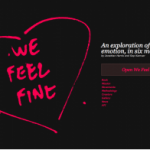 How Do You Feel? No, Really…
Big love,