I just started watching The Big C on Showtime—the new series starting Laura Linney as a woman dealing with Stage IV melanoma. (Yeah, that "big C" stands for cancer.) And as I Tweeted the other day, I love love love love love the show.
I get giddy watching Cathy Jameson (Laura Linney) embrace that she can and should be doing all the things she's ever wanted. She tells off a snotty high school student (an awesome Gabourey Sidibe). She does cartwheels down the high school hallway where she teaches. And in one scene, she lies outside in her yard completely naked, like a woman she'd seen doing the same. (On a crazy-related note, check out my essay about learning to be comfortable with being naked in this month's Health magazine.)
When Cathy's husband finds her there, she brings up a memory of being afraid to go topless on a French beach because she thought she was ugly. But later, seeing photos of herself from that time, she realizes:
"I was pretty cute back then. But I didn't feel it."
How often does this happen, right? We think we're not thin or curvy or buff or hot enough, and yet in a few years, we look back on photos of ourselves and realize how great we really looked! Like Cathy in The Big C, let's give ourselves the gift of hindsight right now:
Imagine yourself in 10 years and look back at who you are now. What do you see? Is your 10-years-younger self cuter than you remember? Is your 10-years-younger self happy? Or is your 10-years-younger self wasting a lot of time groaning about themselves or being single when they should be appreciating some of the kick-ass things in their incredible life?
Your life is awesome in its own way, right now. And it's vital that you see this, because once you meet the right person and grow a few years older, you will be different. You will gain or lose weight, you will gain or lose faith. Your living room will probably look different, your lunch order will be new, your workload will have altered, your health may be different and you will look back on your life right now, with a wistfulness, wishing you had appreciated it more.
Give your 10-years-older self the gift of being able to say you appreciated your life as best you could today. Body, attitude and all. Is there anything you can learn to appreciate now? Something your 10-years-older self, in hindsight, would be pretty damn proud of? Why should you, like Cathy, do cartwheels down a hallway?
You might also like:
VITAMIN OPTIMISM: Future You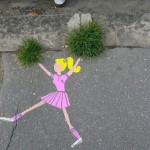 Big love,