Wow, this is something special.
This is a video that reader of my book named Doni Conner found and posted on the Meeting Your Half-Orange Facebook Group page (which, by the way, is a great way to get in touch, say hi and share your story!) My eyes are still wet from viewing it, and I knew I needed to share it with you. If you're in a Starbucks or a busy office where everyone can see you, be warned: it's moving. Click on this image of the video:
Or on this link here: Danny & Annie from StoryCorps on Vimeo. Their story is so moving, so simple and so real. And I hope it inspires you the way it has inspired me today.
The next time you kick yourself wondering why you're even bothering with all this dating, and if there are guys and girls out there who are full of love and want what you want, let Danny & Annie be your answer. You're bothering because of this. Because this is what love is. Someone to walk into life with together, who'll offer you ice cream at night and stir your heart.
You might also like:
The Ageless Path You're On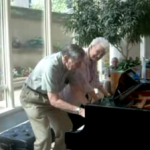 Big love,