It was a happy day in our household this week. Why? We just got Apple TV so we could easily watch our streaming Netflix on the big screen. Huh. Guess our 1000 cable channels, On Demand options, Netflix DVDs and the 1 Terabyte hard drive full of movies and TV episodes Gustavo's friend Mike gave us wasn't enough to watch. In any case, it's already paying off.
I finally got to see The September Issue, which has been on my "to see" list for a year now. You know the film, right? It's the documentary about the making of Vogue magazine's September 2007 issue. It follows all the major players, including editor in chief Anna Wintour and creative director Grace Coddington. And I was so taken by the talents and attitude of Grace that I wanted to share two things she said in the film that can help you in your love journey as a dating optimist. Your two very Vogue tips for love:
1. Embrace being a romantic!
When Grace was in Paris for work, she took a side trip to the Palace of Versailles. As she looked out into the garden, she quietly took in the view and said this:
"It's beautiful. I think I got left behind somewhere because I'm, you know, still a romantic."
I meet so many people—women especially—who scoff at the word "romantic." Heck, I was one of those women. I used to say I didn't want cliché flowers and dinners on Valentine's Day, that I didn't want a nice engagement ring, that I wasn't about holding hands and using nicknames and showing PDA and other ooey gooey love stuff. But now that I'm with my half-orange, I've realized something: Believing "romantic" doesn't mean you embrace Hallmark cards and candlelight dinners. It means you're open to life and open to love. I think the more "romantic" you are in life, the greater your opportunity to have love.
How can you be a romantic in life? Believe in hope, believe that there is vulnerability and love in all of us and that bad situations can be handled by shifting our perspective and embracing the good within it. Believe in quiet moments where you listen to birds chirp and smell fresh cut grass and feel the wind on your face. Believe that even a bad date can be salvaged by finding what's worthy or interesting or hilarious about the person you're with or the situation you're in. And believe that you—that we all—deserve a great love in life, a teammate to travel the journeys of life with. Be a romantic. Find what's beautiful at the Palace of Versailles or the view from your own front door, and be open to the beautiful experiences life has to offer.
2. Forget about perfect—we're meant to be different!
After Grace styled a "color blocking" fashion shoot that featured a profile shot of the documentary cameraman Bob, Anna Wintour apparently looked at his little belly in the printout of the shot and joked to him that he needed to go to the gym. When Bob told Grace this, she scoffed. This is what she said:
"Personally, I think it's better that you're not, like, skinny skinny. I really do. To me, it much more makes the point that you're real people and not models. Everybody isn't perfect in this world. I mean, it's enough that the models are perfect. You don't need to go to the gym."
There again, Grace nails it. There's enough "perfect" out there with all the Photoshopped ads, plastic-surgery pumped up people, and graphically enhanced characters we're faced with every day. Our aim in life shouldn't be to mimic that. We're all different and we're all meant to be different.
So if you find yourself grumbling about some physical aspect of yourself that you worry no one will love (that mole, those toes, that crooked tooth) remember that your half-orange isn't looking for a picture of perfection. Your half-orange is looking for a fun, fabulous life-affirming love. With you. Yes, stay healthy, live your best life. But you don't need to work off or Photoshop out every "flaw" you think you have. Your half-orange is going to love you just the way you are.
You might also like: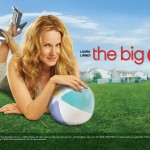 Love Yourself Big C Style
Big love,