I've been so slammed with pre-holiday work, it's taken me a minute to write this up, but I had to share something I saw on the most recent Parenthood episode. The episode, which was actually called "Put Yourself Out There," made me cry (as every episode of Parenthood seems to). And it can change your dating and love life if you take it to heart. Really, it's THE MOST IMPORTANT message I can think to pass on.
Here's what went down: Sarah (Lauren Graham)'s high-school daughter Amber (Mae Whitman) was offered an opportunity to speak to a hot shot woman who could help her get into Berkeley. The hot shot was a friend of Sarah's brother Adam (Peter Krause). But Amber didn't want the interview, dammit! When Adam asked her why, she explained.
She was too scared, she said. She was afraid to fail. She couldn't bear the idea of rejection or messing things up, like she felt she'd messed up so many things in her life already. (Ahem, sound familiar daters?) So this is what Adam told her:
"Amber, life will knock you down more times than you can possibly imagine. Don't knock yourself down. Don't avoid feeling embarrassed because you're afraid something's not gonna go well. So what? Amber, you are a wonderful, talented and really smart young woman. Put yourself out there. Give yourself a chance."
What a message, right? So look at your love or single life and think about the same thing.
When I was single, I got to a point where I didn't feel like going on dates anymore, because even when I found a guy I liked, he always seemed to want someone hotter or richer or younger or blonder or less jokey or more sexy. I felt like I couldn't win, so what was the point? Instead, I started putting myself down before they could do it for me. Have you ever done this? Talked about how you're probably not what someone wants anyway—before anyone's ever said a negative word about you?
Well if you have, stop. Stop right now. Because Adam's right. Life will knock you down plenty of times. So don't knock yourself down. Don't count yourself out of the game before you've even had a chance to play and see how you do! Put yourself out there. I'm not saying that you have to walk up to every single cute person you see at the deli, bus stop, bar and bathroom line. But I am saying that if you like someone, talk to them. And if you're talking to someone you like, tell them the good things about you and your day, not the bad. You're uniquely awesome, and you'll never know if someone wants exactly that—exactly you—unless you put yourself out there to see.
Please. Stop badmouthing yourself. Don't knock yourself down. Build yourself up. Talk about what's great about you. Let yourself see how fun being a positive you can be. Please, give yourself a chance.
You might also like: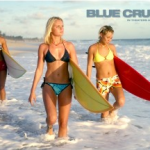 Get "Blue Crush" Brave
Big love,