I've always thought it would be fun if each of us got a "Karma Cam" after someone screwed us over. You know karma, right? The belief that a person's negative act ripples through the universe and at some point comes back to them like a boomerang?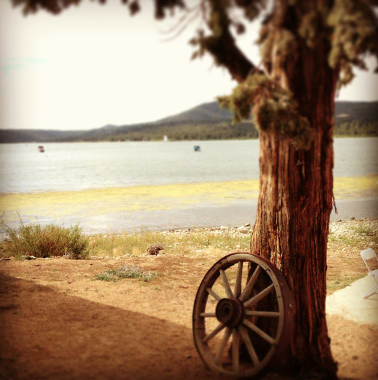 Well, just imagine if, after someone dumps you, or steals your client, or cuts in front of you in line at Target, a Karma Cam would let you see the moment their negative action comes back at 'em. It sounds kind of delicious. And the other day, I essentially got to see a Karma Cam in action.
I was driving along a busy road when I needed to switch lanes, so I put on my left turn signal. I was just about to slide over in front of a white car, when they hit the gas and inched up as close as possible to the car ahead so I couldn't fit in.
The nerve, I thought. I was so peeved! But I kept driving, confident I'd find a spot to slide in soon. Well, as we all pulled away from a stop light, that white car lagged behind (texting, maybe?), so I took the opportunity to switch lanes in front of it. And a few minutes later, I noticed in the rearview mirror that the woman in the white car was now trying to change lanes herself. And guess what? No one would let her in. I watched as car after car in the other lane inched up close just like she had. As she banged on her steering wheel with frustation, I admit it felt kind of good.
But after I turned off that road, I started thinking how I was still carrying that negative energy with me. And I wanted to shake it! So when I reached the next stop sign with another car, I smiled and waved it on ahead of me. I was determined to balance out the bad by passing along some good.
That's when I realized the happiness math: Sure, it would be fun to see the negative come back around on the Karma Cam, but it's even more fun to actively do something positive to cancel it out.

So try this: The next time someone really jabs you—in a little way or a big one—resist the urge to jab back. It's hard! But rather than paying the negative experience forward, pay it forward positively instead. Balance the world with better things. Because that is what is going to make you happier.
• If someone has rejected you in love, turn around and accept another person in a kind way.
• If someone has taken from you, give.
• If someone has said harsh words to you, say someflattering, kind and loving words to someone else.
• If someone has elbowed you out at work, let other people you work with in.
It's not always easy, I know. To this day, every time I've opened my closet for the past two years, I still bristle at the thought of the publicist who nabbed my adorable go-to J. Crew blazer during a celebrity interview. But while I work on getting over that one—and I'm determined to!—I'm doing my best to balance the universe with better things.
Join me. Those people in bad moods, with prickly natures, the people who lie or steal or push or hurt? Let them go do their thing. And show them by your actions what it means to act with a giving, generous, warm, open heart instead. Shake the anger and spread the love.
Let's see how we do.
Big love,
Amy
Note: This first appeared as one of my Vitamin Optimism emails. So if you're signed up, you got this post early!

Be sure to sign up for my next Happy Emails so you don't miss any! You can do that in the upper left box on this site, or on my web site. And if you want to see the original post, here's the full Happy Email of What Would You Do With a Karma Camera?