For the next three weeks, I'll be traveling with my husband through Argentina and Peru. (And if you've read Meeting Your Half-Orange, you know this was a goal of ours and on my Dream Board, so we're making it happen!) Since we already have a house-sitter for our place, I thought I'd do something else for you while I was gone: Leave you with some presents! I figured you might not want a "My Dating Optimist Went to South America and All I Got Was This Lousy T-Shirt" shirt, right? So, instead, I'm leaving behind these two helpful treats: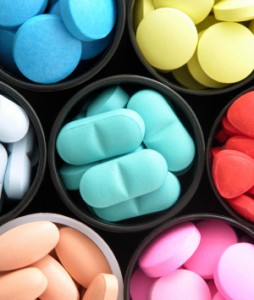 1) One-A-Day Vitamin Optimism! For the next three weeks, I have arranged for you to still get your doses of positivity in smaller nuggets. I'm calling the posts Vitamin Optimism. And every day, you can check back here for a quote or saying from someone I admire to get you going for the day. (Or, if you have my iPhone App, Half-Orange Optimisms, you can just shake your phone for an original dose of inspiration the second you want it.) So tune in and let the words guide you when you need it.
2) A Dating Tele-Chat! When I return, I will be participating in a super fun Tele-Chat called "Girls Night In: Four Dating Experts Dish on Finding Mr. Right." The class was created by Kira Sabin, the Dating Makeover Coach and YourTango.com, with fabulous giveaways from The Body Shop.

The  tele-event begins while I'm gone, which is why I'm telling you now: Every Monday night for four weeks—from April 5th to April 26th—a different dating author expert will be providing free dating insight. The class will feature a different chat each week with myself, as well as experts Lori Gottlieb, Rachel Greenwald and Lisa Steadman. Save the Date for Monday April 26th at 9 pm EST/6 pm Pacific, when I will be offering my free insight to using dating optimism based on the neuroscientific and positive psychology research and personal successes that I write about in Meeting Your Half-Orange. Just sign-up for the Tele-chat at Kira's site to get all the call-in details.
Have a great three weeks, and stay healthy will all your Vitamin Optimism! Then I hope you'll join me on the phone April 26th when I return.
Big traveling love,