Oh boy, right? It's that time again.
The time of year we start making super big plans and overly big promises so that come, oh, January 20th when we feel like we've been putting in all this effort and nothing's come to fruition, we may as well eat a whole pizza on a duvet on the couch in front of Diners, Drive-Ins and Dives and cry our unaccomplished, unloved, hopeless selves to sleep.
Well not this year! Why? Because you're going to make the right resolutions—at least when it comes to love. Let's look at some of the possible ways you've resolved to find love before and how you'll change it this year for the good. Follow this OPTIMISM WORKSHOP to alter your romantic resolutions for the better.
Here's How Not to Make Your New Year's Love Resolutions:
Don't RESOLUTION #1: Resolve to "Find love this year." Love isn't the extra set of keys you placed behind the food processor and forgot about. It's not something to be "found." And setting off on a "search" won't get you there.
Do: Resolve to be open for love this year. As a dating optimist, I believe that we don't find love, love finds us. But it can only find us when we're sending the signal that we're open and ready for it.
Your Jan. 1st First Step: Instead of thinking inward about who's done you wrong and what you want that's right, focus your eyes upward and outward. Look at all the people out there on the street, in the stores, at parties or driving past you. The world is big and anything can happen! This year, keep your gaze set up and out so others can see how open you are to what might.
Don't RESOLUTION #2: Resolve you will get them to like you, whatever it takes. Hey, I've been there, too. So certain that the guy I liked was a great match for me, and if I could just get him to see the same perfect picture in my imagination, we'd live happily ever after. The problem? You can't make someone like you. And trying to in a grabby, beggy way will only push them further away.
Do: Resolve you will attract the right person for you. And I hate to be the one to tell you this, but if that person you like isn't calling and texting and trying to get you into his or her life, then they're not—right now, at least—the right person for you.
Your Jan. 1st First Step: Delete the phone number of that guy or girl who keeps blowing you off. Yes, delete. If you are still using energy thinking about how to make it happen with them, you're distracting yourself from what's going on right outside your own front door! Stop obsessing about the right-this-second person and start thinking about how you want to feel long term with the right-lifetime person.
Don't RESOLUTION #3: Resolve that "Enough is enough. Argh, this is the freaking year for love, dammit." As I write about in Meeting Your Half-Orange, your intentions aren't all that matters. What also counts is the tone of your voice and energy when you set your intentions. So if you're coming at a relationship from a place of fed-up frustration, neediness or hopelessness, you're not going to attract what you're really looking for.
Do: Resolve that you'll accept love when the time is right. Patience isn't easy. I know this. I've watched pots boil and stared at phones waiting for them to ring and screamed at the sky asking why the thing I want so badly hasn't come. But if trust that love will land on your doorstep when you and your future partner are ready for it—and ready for each other—you will be happier and more attractive for it.
Your Jan. 1st First Step: Write this on a Post-It: "We'll meet when we're both ready." This will remind you that it's not just you that's waiting for your other half—your half-orange is also out there wondering what's taking so long for you to arrive. Get ready by being your happiest, very best self so they'll recognize you when they see you.
Those are my three biggest resolution fixes to help get you started this year. With this, I wish you the happiest, healthiest, love-iest New Year!
You might also like: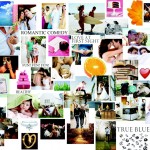 Optimism Workshop: Build an Even Better Dreamboard
Big love,