Gosh, I love embarrassing questions. Mostly because the questions that people think are embarrassing really…aren't. When I hosted the Sirius radio show Sex Files on the Maxim channel, I used to get calls all the time from people saying, "You've probably never heard this one before, but…" And the thing is, I usually had. Because we're all human, and our experiences—good, bad and embarrassing—are so often similar.
That's why I'm such a fan of the new book that one of my favorite editors—Lisa Lombardi at Health magazine—co-authored. What the Yuck? is full of those questions people are afraid to ask but secretly all want to know.
Now, in honor of those "You've probably never heard this one before" questions, I'm going to answer one of them right now. (I also regularly post answers to other questions that have been emailed to me in the "Let's Talk" Q&A section of this site, so check some out!)
The Question:
"You said never to say never…but this one "never" is hard to argue with: I've never been on a date, never been asked out, and, as the movie goes, never been kissed. I just finished reading your book. You might wonder why I read your book if I haven't had any dating experience yet. I'm almost 24 years old and am truly at the point in my life where I want my half-orange to find me. I am becoming the person I want to be: I recently took up competitive running, lost a good amount of weight, and am now starting to enjoy my life as a graduate student. I want to be a dating optimist but I find it extremely hard when, as far as I know, no one has found me date-able. I find it very hard to believe that any man will be able to love me. I know that I need to banish those thoughts but after this long, it's extremely difficult to do." —R.
My Answer:
We've all had our "never" times, R. There's no such thing as a rulebook for how fast or slow people are supposed to go. And by the sound of it, you're going at just the right pace or you.
I'm so happy for you that you say you're becoming the person you want to be. And that, I must say, is the best thing you can do for your dating self. Because the more you know who you are and what you want in life, the better you'll approach future dates and potential partners. Now, as for no one finding you date-able…psshaw! (You get that sound effect, right? I'm waving away that idea as nutbaggy!) You are date-able. You are loveable. You will have a wonderful partner in your life who won't be able to fathom that you deem him worthy to be with you.
And the first step I think you should take to meet that person is to go on a date. Yep, pull off the Band Aid and get on out there. The easiest and best idea I can suggest is online dating, because unlike a bar or a party or a restaurant, all the people you find on that dating site are there for the same thing—to date! Don't disguise who you are, don't put up a photo that doesn't look like you, don't say you like things you don't like because guys might like it. Check the box for "want a relationship," wink at a few people, and have fun. When someone asks you out, go for it. He doesn't need to be perfect, he doesn't need to be your future husband, he just needs to be someone who wants to have a coffee or a cocktail or a meal on a cool fall night over good conversation. That's it. If you know a friend who wants to set you up, or another place to meet someone to date, go for it.
My point is, dive into a date. First dates are notoriously awkward anyway—whether you've had 30 first dates (oh, look at that, another Drew Barrymore movie) or none, so you're not going to stand out for being inexperienced, trust me. Just go with the idea in mind that it's nothing serious and that this first date or your first kiss doesn't need to be the be-all, end-all—you're just breaking that ice and taking the first step into the rest of your dating life. And you can always keep in mind my favorite mantra: The worse it is, the better the story.
I hope that helps, and I hope you can get your optimism up there. Life, remember, is all about first steps. You'll be taking first steps when you're fifty, too, so enjoy these first steps into dating and be confident that because you will have a happy ending, you can enjoy the whole ride along the way.
You might also like:
VITAMIN OPTIMISM: Dance Your Dance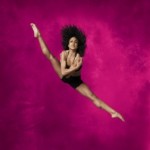 Big love,