You remember the movie Bend it Like Beckham? So cute, right? Well, I learned something last night watching Game 7 of the NBA Finals when the Lakers played to redeem themselves after losing to the Celtics in 2008: Sometimes, you should Bench It Like Kobe!
Kobe, as you know, is arguably the best basketball player in the world today. But last night, in the first three quarters of the game, he was fumbling balls, missing shots, causing turnovers and doing the Lakers little good at all.
So what did his coach Phil Jackson do? He benched him. At the start of the fourth quarter in the biggest game of their year—the one that would earn Kobe his fifth championship ring, just one less than Michael Jordan—Kobe Bryant was benched. And thank goodness! By the time Kobe got back in the game, he was himself again, hitting a clutch 3-pointer and eventually helping his team to victory.
Afterward, at the press conference, Kobe said this:
"I wanted it so bad. Sometimes you want it so bad, it slips away from you."
Recognize that feeling, daters? That trying too hard? That wanting it soooo badly that you're not acting like yourself? That feeling that this date, this person, this meeting is the biggest chance you've got, and you really don't want to blow it? But then you find yourself doing just that: fumbling, bumbling, losing your mojo entirely and wonder why now, of all times, you can't make it happen when you want it the most?
Well, it's like Kobe said. Sometimes you want it so bad, you freak yourself out, don't act like yourself, and it slips away from you. The next time you feel that way, do to yourself what Phil Jackson did to Kobe: Bench yourself. Take a breath. Wipe your brow. And when you get back in the game, you'll feel more like yourself again and be ready to clinch it, too.
P.S. I'm reeeeeeaaaaally excited today, because of all the Apps that Apple has on it's App store (more than 220,000) they put my App, Half-Orange Optimisms, on their "Featured" list yesterday and today!! I don't know how long that lasts, but I'm one happy App maker! If you don't have it, check it out!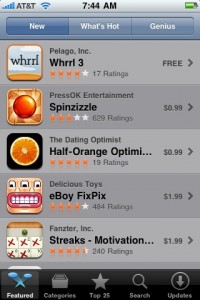 Big love,