People have been talking about the new show Glee so much (Wednesdays on FOX), I had to check it out. I am, after all, a former Glee Club member myself. Of course, we had to stand on bleachers in polyester red gowns when we sang "Eye of the Tiger" in six-part harmony. These kids have style.
Anyway, the show? Adorge. It's an optimistic little story about some high-school outcasts with big hearts and beautiful voices (um, can we talk about the pipes on Amber Riley who plays Mercedes?!) who don't get any respect from the sporty types at school. On this week's "Acafellas" episode, the club hired a choreographer to create some contest-winning moves, but all he did was viciously call them various forms of useless. Just as they were about to quit, Rachel (who'd been told her nose was too big) stopped them with this:
"When Barbra Streisand was a young ingénue, they told her in order to be a star, she'd have to get a nose job. Thankfully, she refused . . . . Let's face it. We're never gonna be as good dancers as Vocal Adrenaline. We're gonna win because…we're different. And that's what makes us special."
It's such a simple message, I know that. But I don't think we can remind ourselves enough. We need to stop trying to fit into other people's boxes once and for all—in work, in friendships, and in love. We may have spent our high school years trying to fit in, but real life is about standing out! You are unique and you are awesome, as is. And if someone isn't into you, it's not your problem, it's theirs. I mean, really, if some fool can't see how wonderful you are, then he or she loses the gift of getting to be with you, plain and simple. But don't worry: your future partner is too smart a cookie to let you get away.
Remember, like the Glee girl said: We're different. And that's what makes us special.
You might also like:
Mad Men: More than Eye Candy
A Dating Lesson from Top Chef
Big love,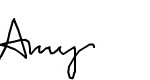 Tags: acafellas, Glee, optimist, surviving set-backs