I laughed. I cried. I laughed. I cried again. And then laughed. And maybe cried one last time, I forget, really.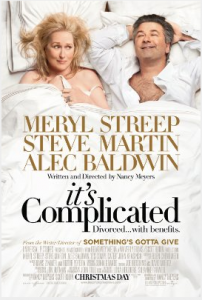 But the fact was, I absolutely loved It's Complicated. Nancy Meyers, you are my idol. The characters (Meryl Streep's "Jane," Alec Baldwin's "Jake," Steve Martin's "Adam" and all the rest) were real and damaged and hopeful and funny. And the story (which I won't blow, don't worry), reminded me why we go through all the damn trouble to fall in love in the first place.
Here are the three lessons about love and life I picked up from the new film and want to pass on to you:
1. Yes, it's complicated, but we do it anyway! Why? Because love can be as rewarding as it can be trouble. Yes, it can hurt us and divorce especially can wreck us, but we get back on the saddle because the feelings and fun and benefits outweigh those tough times. So the next time you're wondering why you're even bothering with all this silly, complicated dating stuff, the answer is that a good love—one that nourishes and changes you in wonderful ways—is always worth the effort.
2. Sometimes doing something "un-you" or "bad" can be good for you. Over time, we all get pretty good at being us—we follow the same moral code, keep to the same parameters, date the same types of people. But every once in a while, when something different comes knocking on our door, maybe—just maybe—it's worth answering. Jane delved into the deep questions of "should I or shoudn't I" and constantly measured her "rights and wrongs" like we all do; and what I saw her learn and what we all can, too, is that sometimes it's worth doing some shouldn't-I's so you can figure out what's right in the end.
3. There is always—always—laughing and crying in love. A good, hearty love isn't just about being happy for forty straight years. As Jane and Jake talked about their 19-year marriage in the film, it's about learning what you want from one another, navigating what bugs you both, dealing with who you wish your partner would or could be instead, and balancing your expectations with who you hug at night before bed. And in the end, you don't get to the long-term laughing happy ending without the tough cries all along the road there. So think about this as you seek your other half. You don't want someone who will give you an average, boring, okay existence—you want a half-orange who will challenge you and inspire you and help you grow together as a couple along the road of life. Ask for a partner who will weather it all with you, who wants to be nicked and scuffed and wet by a few tears through the years to get to the soft part together.
You might also like:
Julie & Julia: Your Optimism Gurus!
Big love,