Man I've had a crazy month. Traveling through Costa Rica, finishing my second book, spending a week with my parents visiting from the East Coast, writing some new magazine stories, dealing with some personal stuff…I'm sorry I haven't had time to squeeze in posting on here! But I found something online I loved so much, I couldn't help but get back in the blogging game to post it for you here.
Take a look at the letter one person wrote to their younger self: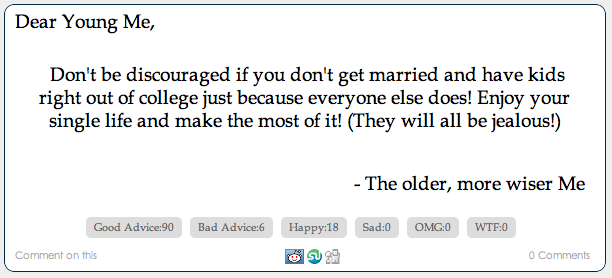 I stumbled across it on, oh yeah, StumbleUpon. (Um, hello, did you know they have an App now? It's awesome.) This quote is from the site Dear Young Me that's also on Twitter (@DearYoungMe). The gist? People submit notes they want to write to their younger selves, full of the advice they wish they'd known then.
I love this particular letter because it's something I wish I told myself, too! When I graduated from college, some of my friends were already planning their weddings. Four years later, another batch of gals got married. And with every wedding, the "singles table" got smaller—but I was always sitting there, without fail, wondering when my time would come. I kept worrying: Why aren't I getting married like everyone else? What's taking my love so long to come?
Well, now that I've found my half-orange, I know the answers. I know why I wasn't getting married back then: Nothing was as good then as it is with Gus! And I know what took my love so long: He and I both had to grow into the people we are today, who could appreciate and love one another for who we were, fully formed, confident and happy.
Don't worry about everyone else's timeline! Suck it up, shell out money for their wedding presents, and sit back with confidence. Know that your love will come when it's good and ready, so you may as well enjoy the singles table at their weddings. Make the most of it! Live up these weeks and years, because you won't be single forever. And when you're finally hitched, you'll want to write a letter to your younger self begging that you appreciate what you have right now.
Browse through Dear Young Me for more inspiration. My advice:
1. Write your own letter to your dearest younger you so you can see how far you've come in life and love. I mean, really, look what you've learned! Look at the people you know well enough not to date anymore. Look at the lessons you've learned about yourself, about what you like, appreciate, can tolerate. And…
2. Really listen to those who have lessons to pass on from an older, wiser place. Sometimes it's best to learn our own lessons in life. But sometimes, hearing what someone who's been through it has to say can really help.
Think of what you'd tell your younger self. Then, listen to the older, wiser you. And take your own advice!
You might also like:

Letters to Your Future Husband
Big love,