The other night, my husband told a guy he knew that we were heading to Japan soon. (We're going Sunday and I'm stoked!) The man shook his head, and said, "Have you seen The Cove?"
"Not yet," said Gustavo.
"Oh man," the guy said of the film that won the Best Documentary Oscar this year. "It's so messed up. Watching those Japanese fishermen slaughtering those dolphins made me lose respect for them. I can't go to Japan now after seeing that."
"It's really sad," said Gustavo, "I hear ya." They stood there for a second taking in the weight of it.
"So," said Gustavo, changing the subject. "What are you up to this weekend?"
"I have the best plans," said the guy. "My friends and I are going elk and moose hunting!"
Okay. So. I know this topic is sensitive and we could debate the "We eat cows, they eat dolphins" and "Why do we eat any animals at all" topic until we're blue in the face. But what I want to focus on right now is not the debate, but that this guy did not recognize the mixed message he was sending: After a rant about how bad it is to kill one animal, he was setting out to kill another one!
I was blown away by his blindness until I realized how much we all speak in mixed messages in more subtle ways.
If you're single, you may have said at some point, "Dating sucks. All guys/girls are jerks. Ugh, I'm so over it." And yet if I asked you why you were dating, you probably would have said, "To have a happy, fulfilling, wonderful relationship in love." In its own way, those two ideas are like the dolphin and the moose. You want a happy, uplifting, loving relationship, and yet you're growling about how sucky everything is with a scowl on your face? Talk about a mixed message.
Don't think you can complain about being single or sarcastically groan about dating or roll your eyes and mock the whole thing…and then hope that your secret desire for a bright happy relationship will come! Nuh-uh. Life doesn't work like that. You have to be the part you want to be.
You only get the promotion when you talk positively about how much you want it. You only get picked for the football play when you tell your fellow players you're confident you can pull it off. You only get the loan when you convince the lender you have every positive intention of paying it back. And in love, you only get a happy, wonderful, loving relationship when you positively express that you actually want one!
Whether you're talking about dolphins and moose or talking about what you want out of life, look at the message you're sending. Do your words match your intentions? Because your words need to match your intentions! If you're talking about how much dating sucks, it will suck. Un-mix your message and start talking about what you want. I'm going to finish watching The Cove on my TiVo and try to do the same.
You might also like:
If You Think You're Happy…
Can You Be a Cynical Optimist?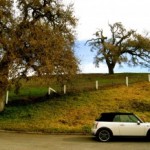 Big love,